What Should Every Gap Year Planner Know?
A gap year is an opportunity to learn through activities such as travelling with just a backpack, working in jobs you would normally not do, and volunteering. It's also an opportunity for self-realization, which one can attain via coaching and mentorship. You can also develop skills such as managing time, organizing things, communicating effectively, and solving problems.
A gap year is usually after high school and before college or the university, but it doesn't necessarily have to be in that time frame. The fact is one can take a gap year in the midst of life-altering happenings.
Why Should I Take a Gap Year?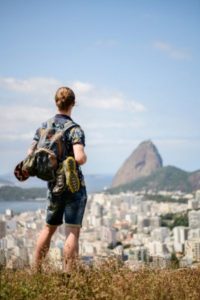 Well, it's a passage rite observed by a lot of 18-year-olds all around the world. It's usually done in the typical time frame (between high school and college or university). Even public figures such as Prince William, his wife, Kate, and Harry, his brother, took gap years in their adolescence. It's very common in countries such as Australia, the U.K., and New Zealand. Canada recently started catching on.
You can decide to remain in one location or be mobile by embarking on a journey (either on your own or with friends). Several universities even permit their freshmen to defer admission for a year to experience and learn in their gap year period. That's the extent of its acceptability. There are several ways to go about your gap year, but the bottom line is forging your path and absorbing yourself into a new way of life.
Planning My Gap Year
If you want to plan your gap year, begin with the basics. This means answering the questions: how and where? You can take your gap year by staying indoors, saving up cash for a couple of months, or plan to travel for free, and then go on a trip. Others may decide to undergo a gap year program that professional gap year planners have organized.
The most difficult aspect of your gap year is deciding on your goal and trying to figure out exactly how to realize it. Your gap year is a significant aspect of your life experience, so ensure that you make preparations for a gap year program that achieves some goals.
Going About Your Gap Year on Your Own
Travelling solo comes with many benefits as you can see in this video:
A primary benefit of a gap year is freedom. While everyone is in a college dorm, you get to be somewhere else of your choice. In addition, a gap year lets you experience some risks, such as taking on a challenge. Please pick up an activity that gives you immense satisfaction when you succeed at it.
It's also important to focus on yourself and what you can do, not on what others are doing. Take on challenges that you can handle, not because others around you are also considering it.
Because you're going solo, you need to be extra conscious about your stuff. For instance, when buying travel insurance, ensure you also purchase a security plan that has coverage for damaged or missing baggage and extends to missing or stolen documents that the government issues.
Always make sure you scrutinize your travel insurance policy so that you can know what it covers and what it doesn't. If you need clarity on the policy, contact your insurance provider. This is important because it's easy to lose your stuff when you're moving from one place to another, which involves frequent packing and unpacking.
Funding Your Gap Year
How you decide to fund your gap year depends on the details of the plan, your destination, and how much work you want to do. You may also have a plan to save up cash for your post-gap-year education. You can source funds from the bank or go through an already established gap year program that provides budgeting and funds trips. Your relatives can also help by paying for short-term auto rentals and call plans for long distances. They can also help contribute to your gap year program by giving you travel points.
A gap year program gives valuable individual insight into the real world about what he will face as an adult and when he's fully independent. If you've decided to go about the funding alone, you must solve the problem of budgeting and how to raise the cash on your own.
Having a Contingency Plan
An aspect of your gap year planning is to have a contingency plan. This way, you can ensure that there are no unforeseen surprises during your gap year program, or you can plan for that if anything goes wrong. The latter option is more feasible because, most times, unforeseen circumstances are beyond one's control.
Having a contingency plan should be a major aspect of your planning. Things such as missing or stolen luggage during one of your trips, interruptions during travel, and an unplanned visit to the hospital are examples of unforeseen circumstances. While things such as missing luggage can be within your control, a trip to the hospital isn't.